How To Increase Web Traffic
Posted on |
How to increase web traffic/get more organic web traffic with SEO.
There are a few things you'll need to do, like getting a website audit/SEO report.
You'll need to find out what issues your site is having such as speed, code or SEO.
Next, you can improve your text to code ratio and ensure your keywords aren't repeated on every page. Once is really enough!
Next you can look for quality in your content, imagine you're a visitor and think about what you would expect to see on your website.
Search Console & Webmaster tools or Google Analytics can help you to learn what your customers are searching for. Also, you can see which pages rank in search engines.
There are free plugins for WordPress, if you use WordPress, for SEO, search and statistics.
Submit A Website To Search Engines & Business Directory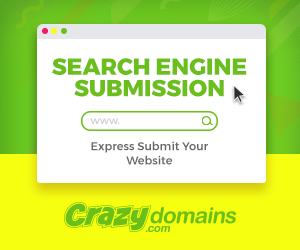 You will want to submit your website to search engines and submit your site map your.com/sitemap.xml that is what you enter in Webmaster tools console. Do this for www. http:// & https://. You can do this manually. But if you are not so technically minded, there are low cost alternatives.
You can submit to free directories or more directories around the globe by hand.
Or you can add your business listing and site submission at Crazy Domains. They can assist you with all matters, SEO & traffic.
Please follow and like us: